As with most good things, this is a work in progress.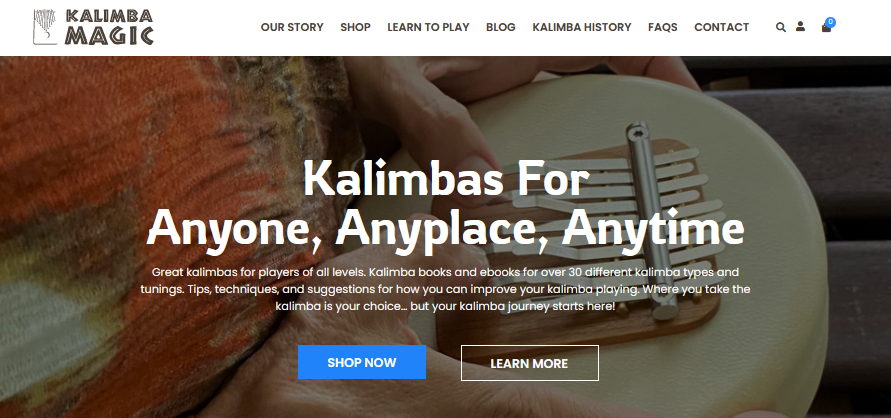 Kalimba Magic is now a modern wordpress web site. As such it is (theoretically) much easier for me to maintain and (presumably) much easier for the user to navigate. That said, I know there are a great number of problems. There is still 5-year-old content that I need to update, and there are a lot of pages that have sloppy formatting. Perhaps the biggest loss is the 2005 – 2015 archival Kalimba Tips and Kalimba Newsletter Articles. That old content stuck around for the last five years, but now it is gone. If there is a particular post of article that was meaningful or essential to you in some way, feel free to
contact me
to request that content.
In principle, all of the Kalimba Instructional Downloads should work. If you are having difficulty accessing your instructional download or the associated sound recordings, please
let me know.
And of course, I am still working my way through the site's pages fixing broken links, video captions that have no embedded video above them, and broken links to MP3 files. Again, if you find one of these, please let me know.
Some of the kalimba OPTIONS had been broken for a few days,  but they are all working now.
That is the bad side of the transition – sorry for my dirty laundry. But of course, there is also a good side of this web site transition:
Shipping for most orders will be less expensive, because the new site knows the weight of your order to within a few ounces, and will more correctly calculate the shipping expense.
We used to ship everything USPS priority mail and USPS First Class Mail International. Now, you will find there are many more USPS-based shipping options, including express shipping.
A main headache with the old site was that between 2 and 5% of our customers never got the automated order emails – meaning they never got the links to their DOWNLOADS, and the customer would often have to email or call me to address this situation. The new system seems to be working much better at letting you know the status of your orders as well as how to get your downloads.
I think the new site has a cleaner and simpler look, which goes a long way toward having a calming and satisfying user experience.
But the biggest improvements to the Kalimba Magic site? They are still coming, and I urge you to come back and check us out in January and February 2021.
But to sweeten the transition, I offer you this coupon code, WorkInProgress, good for 20% off your entire order, now through Jan15 2021 in the Kalimba Magic Shop.