Don't get stuck and let your kalimba gather dust – get some lessons NOW!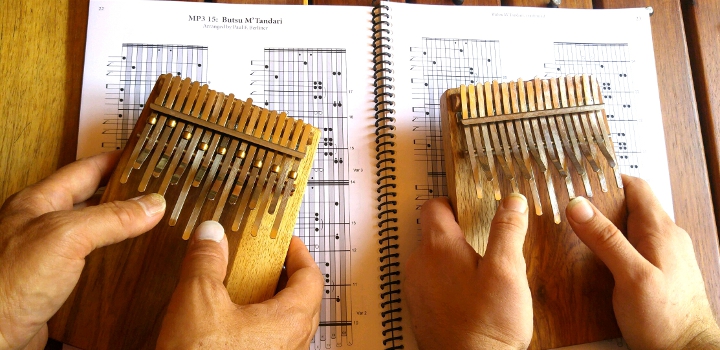 I know there are people who purchase kalimbas and just jump right on board and start flying.  And then there are other people who really want to play, but don't quite know what to do with their kalimbas.
If you fall into that second category, you can get tutoring in kalimba ABC's from an excellent, gentle, and compassionate teacher – me!
If you are already familiar with the kalimba and you need some help ramping up to the next level, or if you are working on a particular song and just can't seem to get it, I am sure that I could help you with individualized guidance. 
Do you have Skype?  If so, a high quality kalimba lesson may be only a few clicks away. 
Here are some details about getting a lesson from Kalimba Magic:
For starters, there are dozens of types of kalimbas in the world. If you bought your instrument from Kalimba Magic, you can be assured that I have that exact kalimba around, and it's highly likely that I know how to play it – in fact I probably wrote a book on it! If you have a kalimba that is of a different design from any instrument that I have, I would be willing to consider creating instructional materials for that instrument and giving you lessons on it.
When we start a lesson, I will assess where your playing level stands. If appropriate, I'll create a song or exercise for you on the spot. I'll teach it to you over Skype, and then after the lesson, I'll notate it in kalimba tablature and send it to you. If you already have a song in a book or a download that is written in tablature and giving you headaches, I can show you how it's done and help work out the kinks.
About Skype: There is a distinct delay on Skype – the delay is not always the same, and tends to be under a second.  That means that we cannot play with each other and both sense that we are in time, on the beat. But we CAN play together…at least from your end. I can deal with the delay problem and still provide you the playing partner you need. 
If you are in Tucson we can dispense with Skype, and you can just come on down to "Kalimba Central" and we'll do the lesson in person.
When you purchase a lesson, you will receive my contact information. When we connect, we'll schedule the lesson for some time in the next 10 days.
A one-hour lesson, plus up to 15 minutes offline to write up tablature, is $45.
A half-hour lesson, plus up to 10 minutes offline to write up tablature, is $25.
You can get a multiple-lesson discount: Five (5) one-hour lessons for a mere $170 – that's five lessons for slightly less than the price of four.