We have arrived at the right thumb part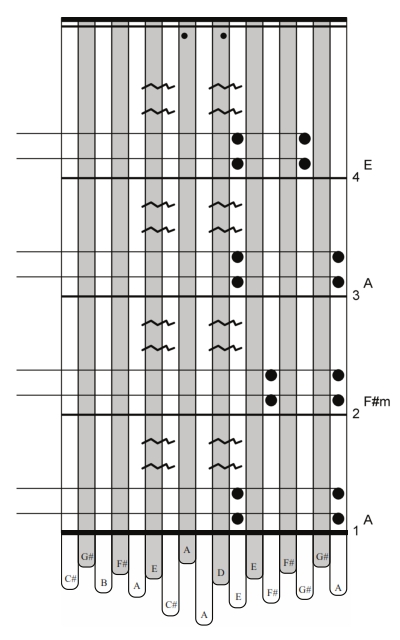 Each of these two-note chords is played with the right thumb and right index finger. In going from one chord to the next, you only move the thumb or the index finger, not both. You only ever move by one tine. See the pattern? The right finger usually stays on A, but shifts to G# on the last measure. The right thumb (ie, the left note) usually stays on E, but shifts to F# on the second measure.
This somewhat lopsided pattern makes a wonderful chord progression common in both African and Western music.
Remember: the long range plan in this series: the right thumb will play something low, strong, and supportive while the left thumb plays a dancing melody. Ultimately, I'd like you to be able to improvise on the left side.
Learn this thumb part well, we'll be using it in several things soon. In the meantime, try adding a left thumb part to this music. You can make it easy on yourself and not overlap left and right thumb parts – in other words, the right thumb plays, then the left thumb plays, and back to the right. Or, you could experiment with overlapping the left thumb's part (that you invent) with the supporting right thumb's part shown here.