A karimba song that echoes more complex mbira music structure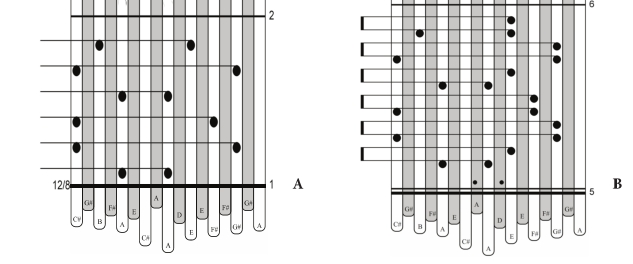 "Kukaiwa" is one of my favorite songs in our recently published "About 30 Traditional Karimba Songs" book and instructional download.  This arrangement comes to us from kalimba maven Ivodne Galatea, who mentions that CD liner notes indicate that "Kukaiwa" may be traditional, or it may be original to Dumisani Maraire. Mariaire brought the marimba band movement to the western United States in the 70s, 80s, and 90s. He may also be the man who first brought the karimba, which he called mbira nyunga nyunga, to the USA.
This arrangement of "Kukaiwa", which is playing now, has a basic part and two major variations that were created by adding more notes within the structure defined by the basic part.  The basic part, designated "A" in the tablature (only part of which is showing in the illustration) is made entirely of two-note chords. 
An interesting aspect of this song is that in spite of being very simple, it has a relatively long phrase length – 48 beats, the same as mbira music. 
In part A above, you can see the entire 12-beat harmonic cycle. The same pattern is reproduced on the right in part B, but it is a variation that has extra notes.  The first half of the measure is one phrase, and the second half of the measure is another phrase.  The entire two-phrase measure constitutes a "call and response."
How does this simple song go from one measure to a four-measure, 48-beat cycle?  Download the tablature PDF and see for yourself!  The first measure is repeated precisely, and then a minor variation is made with an octave substitution of the C# notes on the left side, and then that minor variation is repeated – resulting in a four-measure phrase.  As the octave substitutions do not change the harmonic structure, all four measures maintain that of the original part.
This entire four-measure cycle is then repeated, and is also subject to major variations mainly made by the addition of several notes on the right side of the karimba while, for the most part, the left side stays the same.
The sound recording of "Kukaiwa" that you are listening to, arranged by Ivodne Galatea, is being played by Mark Holdaway on a Hugh Tracey African tuned karimba. This recording is part of the library of downloadable MP3 files you get when you purchase the "30 Traditional Songs" download or book.  If you like this song, you can be sure that there are others you will also like – probably many others.
In many of the sound recordings accompanying the book, I do get carried away and give in to the urge to improvise.  This song, on the other hand, does not contain any improvisations on my part – I am basically playing it the way Ivodne sent it to me.  There is some crystal clear logic to this song that I appreciate and respect, and I pass it unaltered to you in my performance.  I hope you enjoy it!
You may be wondering, if I am not improvising, and there are only three different major variations, how do I fill up more than two minutes?  By deliberately breathing more, or less, life into the phrase, so that it feels as if it is coming, or going.  This song surely helps us appreciate the effects of subtle changes of energy that we can make within the framework of these simple songs, cycling through, spiraling slowly up, and then back down to earth once again.
I have a theory about Dumisani Maraire. That theory is that Dumi, who accomplished a lot of great things, still had a bit of an inferiority complex about the mbira dzavadzimu.  The mbira dzavadzimu plays deeper, more spiritual, and more complex music than Dumi's karimba.  He had learned karimba at the Kwanongoma College of African Music, but had never been trained on mbira nor learned it on his own.  That is why, I suspect, he coined the name mbira nyunga nyunga, the "sparkly sparkly mbira", instead of "karimba," which sounds so similar to "kalimba."  I think he wanted to remind people that he was in the mbira club.
I also think he wanted his music to be more complex than the generally simple, short-phrased music played by the karimba/nyunga nyunga.  So, it makes total sense to me that this song was crafted – or expanded from the one-measure traditional seed – by Dumi to make a phrase length similar to that of mbira music.
Why am I so sure of this theory?  Because I have felt embarrassment that although I could play kalimba and karimba, I could not play the mbira.  And because I too have taken a traditional karimba song and made the cycle length longer to simulate the complexity of mbira music.  (That would be "Double Shumba Panzira", also in the "About 30 Traditional African Songs" collection – and is part of the justification for the title "About 30", because this one is not exactly traditional after I tinkered with it.) So I have a personal basis for my theory, and have been putting a lot of work these days into learning that elusive and complicated creature, the mbira dzavadzimu.
I hope you enjoy this performance of "Kukaiwa" on the Hugh Tracey African tuned karimba, which in this rendition is tuned to the "A Western" tuning.