This is the instrument Andrew Tracey calls "The Original Mbira"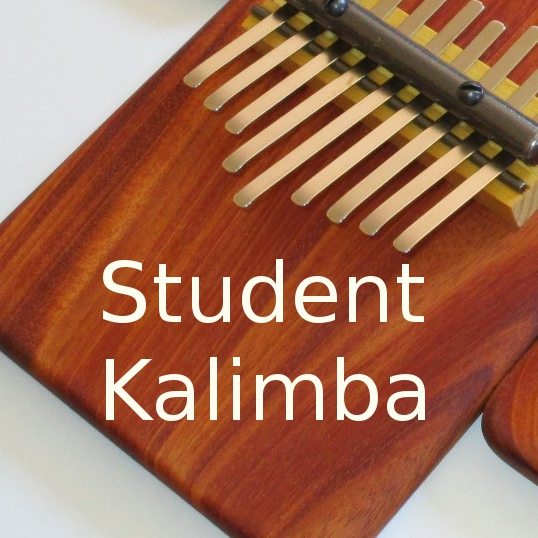 If you are a beginning kalimba player who wants to play western music, the 8-Note kalimba is a great place to start. But if you want to play African music, I would recommend you get the Student karimba.
The Student karimba is an 8-note or 9-note instrument that attempts to reconstruct what Andrew Tracey believes was a common instrument over 1000 years ago.  He argues that this instrument gave rise to several other well known traditional instruments, such as the mbira dzavadzimu and the karimba.  As such, there are lots of traditional African songs you can play on this instrument.  Kalimba Magic has two books that work with it.  The Student karimba is a great introduction to the full-sized African karimba.
If Andrew Tracey's assertion is true, then there are probably a great many traditional songs that are based in these archaic notes.  When you do the work and look at archival recordings of traditional songs, indeed you find a myriad of songs that can be played on this instrument.  The theory about these songs goes this way: the simpler variations are the oldest, and more complex variations that come later in the song are newer.  Because the simpler variations of many traditional songs can be played on this basic instrument, this is considered indirect evidence that these songs could have been written back in the days when the instruments only had eight or nine notes, and the more complex variations that utilize more notes could have been added much later, after the instrument evolved.
A great example is "Bunga Utete."  This is a song usually played on the 15- or 17-note karimba, but the initial variations can be played on this 8-Note Student karimba.  Below is an example page from the Student Karimba Book that illustrates the variations that can be played on the Student Karimba.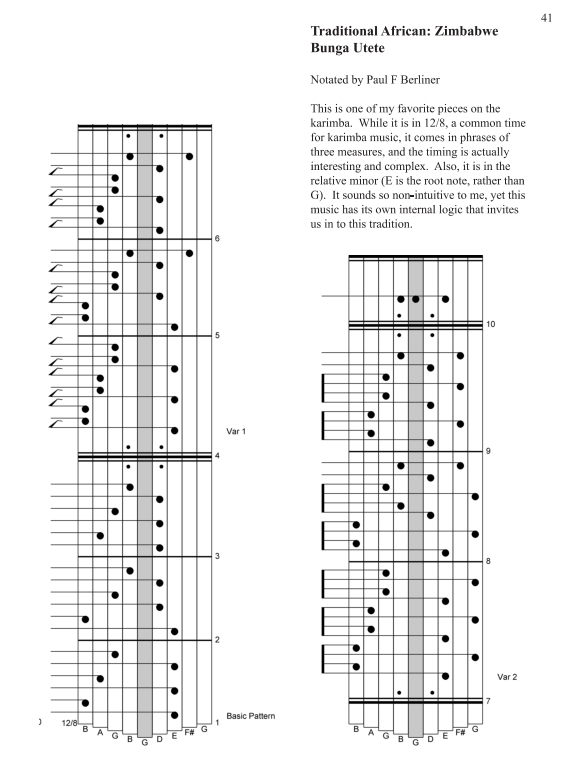 Why should you be interested in the Student karimba?  Because it may very well be similar to what people in Africa played over 1000 years ago.  This is a great and inexpensive way for children and beginning adults to get into the stream of traditional African music.