A download of peace and protest songs for the Alto Kalimba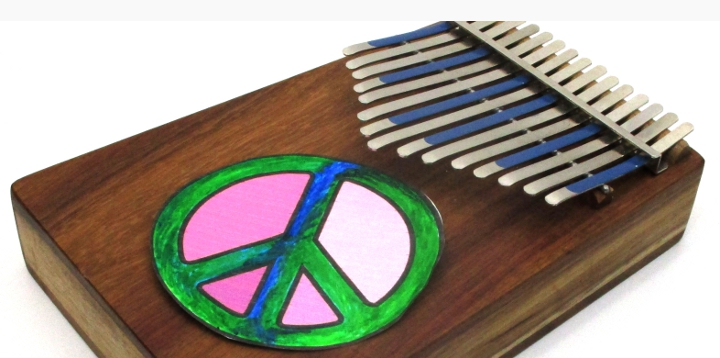 Things in the world may be looking difficult for you, no matter where you are. Here in the US, I am one of more than a few (more like millions) who are disillusioned and extremely concerned about many things…including climate change and the prospects for dealing with it, now that a new presidential administration is coming in – one that seems to offer nothing good for our world's environment, and actually is looking downright destructive. A few months ago, I felt optimistically that we had a chance at preventing the worst consequences of climate change. With the election going the way it did, I think we have thrown that chance down a deep dark hole.
In a democracy, one way to show concern, displeasure, or anger about the decisions made by those in power is to protest peacefully. Which brings me around to how kalimbas and music relate here. Protest music has a long, illustrious and global history. In my little corner, I am expressing my anger and dissatisfaction using the kalimba and playing powerful old songs of protest that have been played and sung by people involved in many struggles in our past. The kalimba is a small and gentle instrument that is so easy to take with you, to play when a group can use some music to sing to, or to play alone anywhere. Protest music can create a haven and a home for people who feel lost and helpless to effect what's going on outside them and can be strengthening, unifying, and inspiring. And the kalimba itself is an exotic instrument whose very presence and sound is a vote for an open mind, diversity, acceptance of otherness… when and wherever I play my kalimbas, I am expressing my rejection of narrow-minded, prejudiced, mean, and selfish attitudes. And the playing of the kalimba just spreads peace, starting with me and rippling out.
If you are feeling powerless, afraid, upset, and alone facing difficult things, and need a few peace songs or protest songs to learn on your own kalimba, check out the "30 Peace and Protest Songs Download for Alto Kalimba." (The Alto tablature in this download also works with the Bb Treble and D Treble kalimbas.) There is a good blend of levels of difficulty in this collection, from very simple to moderate to challenging. "We Shall Overcome" is a moderate song, slow and melody-based, but with significant chordal harmonies throughout: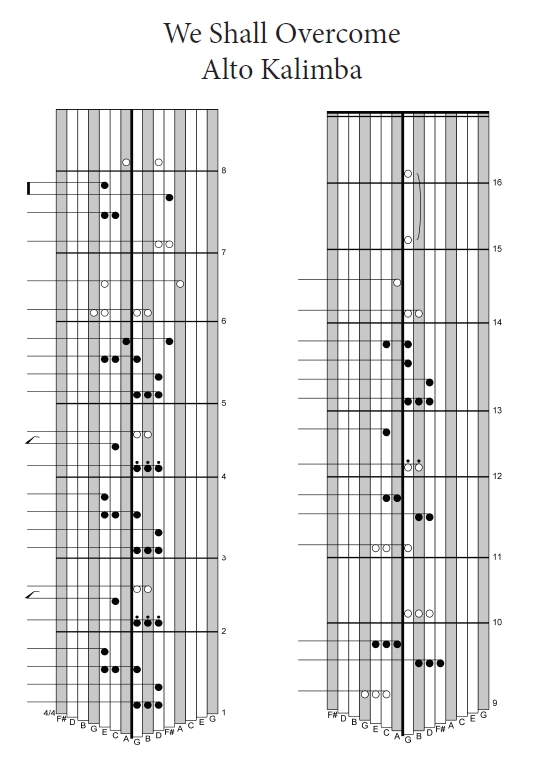 The chords make this seem like church music to me. I find sanctuary in the kalimba.
We, as individuals – even we, collectively – cannot control the direction humanity is moving on this earth or in this country. We can control ourselves – our own actions, and how we react to the events that confront us. The kalimba is a good tool to help us react peacefully. And for me, the kalimba itself is a form of protest.
However you use your kalimba, may it bring you peace and joy, and may it help you change your corner of the world for the better.