"yes!" is the verdict of Kalimbacam's glowing YouTube review of the Hugh Tracey Alto Kalimba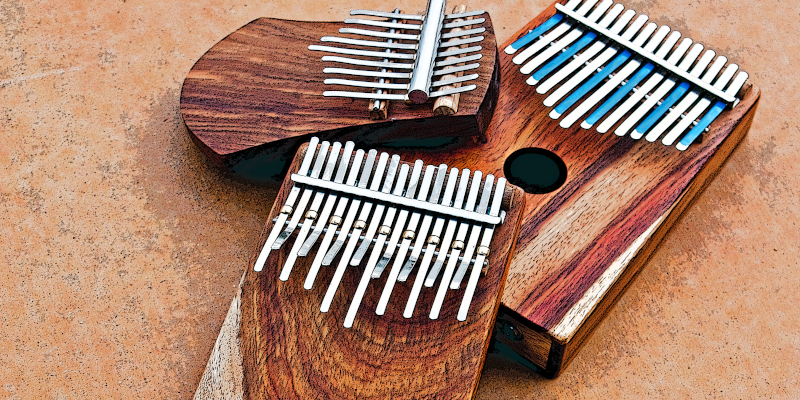 For the last two years, people have been asking me in emails: "So, is the Hugh Tracey kalimba really worth it? I can get a 17-note kalimba made in China for much less."
Of my own personal kalimbas, 8 out of the 10 that I commonly use for performances are Hugh Tracey instruments. Obviously, it's clear to me that if you are at the performance level, the Hugh Tracey kalimba is worth it.
But I have to admit that I was quite pleased to hear KalimbaCam come out with a solid "Yes!" to the Hugh Tracey Alto kalimba in his review on YouTube.
KalimbaCam is a kalimba expert in Australia who posts "how to play kalimba" videos and reviews various kalimbas on YouTube. He has 39 videos, and is an interesting up-and-coming player in the kalimba world.
And here is his review of the Hugh Tracey Alto kalimba:

KalimbaCam gives a big "Two Thumbs Up" to the Hugh Tracey Alto Kalimba.
While I sent Cam the "44 Beginner Songs Book" and he shows it in this video in addition to the Alto Fundamentals book, that book does not come with the Alto kalimba. I do send the Fundamentals book along with every Hugh Tracey Alto kalimba I sell (excluding wholesale orders).
Here are some of the highlights from the review:
The Alto Fundamentals Book is "a really great guide for learning to play the kalimba."
"The Hugh Tracey kalimba is one of the most famous kalimbas, that has been produced since 1954."
"As to the sound of this kalimba, it probaby has the best resonance I've heard out of all the kalimbas I have played. It has a beautiful soothing sound that every kalimba should possess. And this is the first kalimba I've come across that doesn't have a buzzing issue, even on the highest keys."
"It's the first kalimba that stays in tune for a very long time."
"It is overall a very good option for a permanent kalimba."
"It is a great instrument that definitely deserves the good reputation it possesses."
"This is very much worth it."
Thanks, Cam!