What is a tuning? Why do you retune? How do you retune?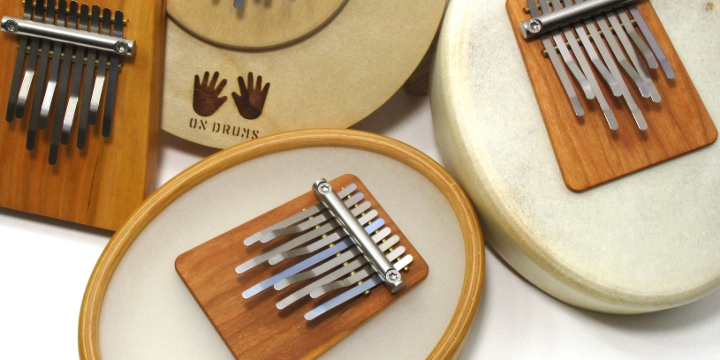 The sansula is a great instrument for so many reasons: its lush tone, beautiful craftsmanship, the smooth metal tine tips, the amazing wah-like effects it produces totally acoustically, its simple 9-note layout with staggered tines, and its intuitive tuning that literally transforms nearly-random thumb twiddling into actual music.
However, the same tuning that is geared toward instant success turns out to be very limiting. I realized this early on, but I so loved the tone and feel of the sansula; I wanted to do more with it. So I started to invent sansula tunings, each prescribing its own universe of sound and musical possibilities.
The series of tips that this blog post introduces is my guide to you on the subject of sansula tunings – what tunings we offer, what they sound like, and what instructional resources are available for each. May this guide serve you well!
With only nine notes, the sansula is not a difficult instrument. It is a good instrument for youth to learn on, but its considerable price tag means it won't find general appeal as a children's instrument. Rather, I think it is a great instrument for adults.
If you are looking to play the most amazing kalimba music, the sansula is not for you. That is, the most serious players should look elsewhere, to the karimba, the Hugh Tracey Alto or Treble or Chromatic.
I would target the sansula toward three different groups of adults:
those who consider themselves to be musical novices who are looking for something that will sound wonderful easily (or those who like to take a break from more demanding musical endeavor for a while)
those who are interested in a low level, relaxing musical activity that might accompany meditation or relaxation
those who are interested in the intellectual challenge of creating and filling out an entire musical ecosystem using only nine notes
Over half the sansulas we ship are in the standard A minor tuning – a mystical, enchanting, but melancholy tuning. If you ever want to explore beyond this true but simple sansula experience, you should consider retuning your sansula – or even acquiring another sansula in a different tuning.
Different tunings extend the emotional and ethnic resonance of the sansula. Retuning means you aren't just limited to those nine notes anymore – but you are still limited to nine notes at any one time.
This series of tips will show you how to achieve a very simple tuning, by just changing one note on the standard sansula tuning. It doesn't transform the musical palette of the tuning, but it opens up some nice options on the sansula. And it only requires changing one note. This is a great place to start.
But we go 'way beyond that. We explore seven tunings in all, including the standard A minor tuning. We now have instructional materials for six of those tunings, and we share some of those with you here for free. If you have a sansula in one of these exotic tunings, you should definitely check out what we have here – your understanding of your alternatively-tuned sansula might just be transformed.
Perhaps the most important thing: what if you need a tuning that doesn't exist? Maybe it is a Hang or hand pan tuning you need, or maybe you just need to be able to play the sansula in F# minor to accompany some particular song. We can probably help you, just reach out and ask.
The link below takes you to the first tip in the series – and a link in the RELATED ARTICLES section of each tip will take you to each subsequent tip. Enjoy the journey!