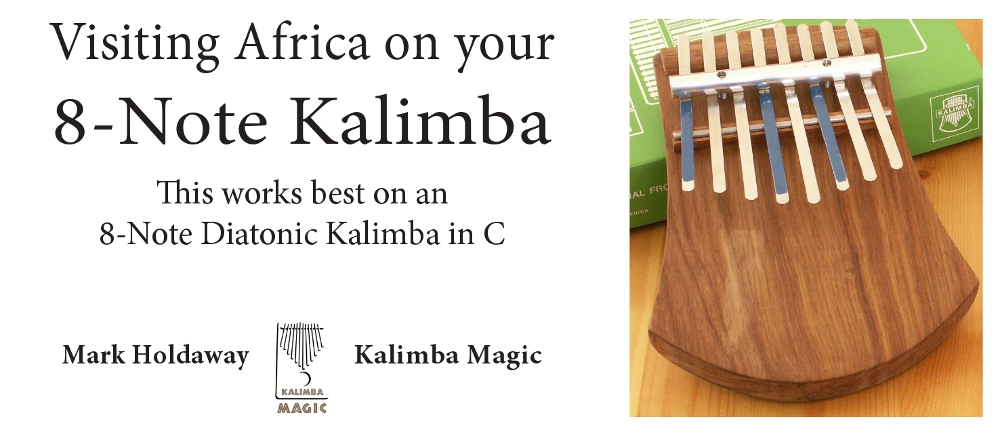 This is a nice little introduction to the 8-Note Kalimba in a western, diatonic C tuning. This is not a traditional African tuning, but it is probably the most popular way to set up the 8-Note kalimba these days. And it turns out there is a lot of African music that you can play on this kalimba, even if it not a traditional setup.
This short 12-page PDF booklet is a pretty descent intro to how to make music on this instrument, the history of the kalimba – and how to play some very nice African music on it. Live links to sound recordings accompany the tablature in this book.
Even though this download is very short, I decided this is a great invitation to the 8-Note Kalimba, and I give this away with a purchase of the 8-Note Kalimba models that we sell. Songs include: Illustrated History of the Kalimba, with recordings, "Mary Had a Little Lamb" (to make sure you can follow the tablature), "The Scale", "The Chords", (so you understand the basic operation of the kalimba), "Mwana Aboyi Mama",  "The Peanut Vendor", "Zendy Kiowa", "Funga Alafia", "Butsu M'Tandari", and "Kothbiro".
Get your own "Visiting Africa on your 8-Note Kalimba" Download – it will also work for the lower, inner 8 notes of your 0-Note Kalimba in C or your 17-Note Kalimba in C.