Leslee Morrison's Second Kalimba Has Opened a New World of Possibilities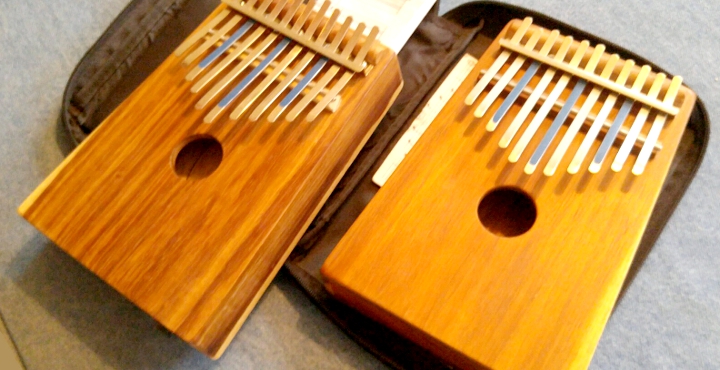 Acquiring a second kalimba in a different tuning is almost like stepping into the exciting realm of kalimba for the first time – everything seems so fresh and new. However, unlike the first time, I come to the second kalimba with an established set of rhythms and thumb patterns I learned on the first kalimba. These patterns do transfer to the second kalimba, and it feels like I am flying.
I got my first kalimba – a Hugh Tracey Box Pentatonic kalimba – from Mark at Kalimba Magic a few years ago. I had little previous musical experience, though I had some experience with guitar and West African djembe drumming. I've had little musical training and have taught myself most of what I know intuitively.
When I first got my kalimba, I played it at least a half hour every day for over a year. This helped me get comfortable with the finger movements and also helped me learn what sounds were coming from which tines. I didn't really study the lessons or try to imitate music that I knew, though that can be helpful. Rather, I just kept opening myself to find the music from within – and that music almost always came through.
Life changes followed that kept me out of the playing mood for a couple of years, but when I got back to it recently, my inspiration returned. When I got the opportunity to play a different kalimba with a new tuning, it was like exploring a whole new territory, but I felt that I had already established the basic navigating skills of the instrument. I love this second tuning – another Box Pentatonic kalimba, but in Frances Bebey's F7 tuning. When I play this new tuning, it feels like I am drifting along on a quiet river, or playing in a lush, exotic garden.
Another good reason for me to have a second kalimba is that this second one has a pickup! Initially, playing amplified kalimba music was not even in my wildest dreams. Now it seems like an obvious next step. While being amplified, now I can imagine jamming and playing music with others – maybe I'll be jamming with the djembes!
My experience with the Hugh Tracey kalimba has been nothing but positive. I found that it fits perfectly in a zippered, nylon book cover, which has become a very economical case. Unlike my drum or guitar, I can easily take it walking, camping, or practically anywhere. It has endured a couple years of travel without a problem or a scratch, though occasionally needing a little tuning.
It turns out a kalimba is not that difficult to tune. It can be tuned by finding the matching notes on a piano and moving the tines in or out until the pitches match, or even more easily, by using a guitar tuner. It seems a little awkward at first, but it's really not hard at all.
The next step on my kalimba path is to explore other styles of kalimba and kalimba music. I was recently touched by the music of the African tuned karimba – I would love to learn that one next. With my renewed inspiration, I am finding the many musical possibilities of the kalimba are opening up whole new worlds for me to explore.
Have fun with your kalimba adventure! I'm having a great time!