Free Tablature for Alto Kalimba and 17-Note Kalimba in C
I write this blog post as a gift to the five people who have asked for the tablature.
I made a video of this song a few months ago to demo the 17-Note Heart Kalimba in C, but I wrote the song about 15 years ago. Originally, it was called "Chorale," and I wrote it originally on piano, as a love song for my sweetie, Deb.
The first 16 measures were included in my first kalimba book "Kalimba Fundamentals for the Alto Kalimba" under the name "Chorale." A longer version was included in the "Advanced Alto Download."
Are you wondering why I call this song "Forgiveness" now, and not "Chorale"?
Here is why. I've done a lot of things in the last three years that I am not particularly proud of. I left Deb, my wife of 10 years, and it was very painful for both of us.
While Deb and I are not moving toward getting married again, we have both come a long way toward having a workable friendship. There is caring and gentleness and a love that is growing again between us. A lot of work has gone toward repairing hurts from the past.
And so, this song too has been reborn with the name "Forgiveness." By the way, this arrangement is superior to the earlier published versions, and exactly tracks the video you are likely listening to right now. And the BEST part? This one is FREE, at least for the Alto and the 17-Note Kalimba in C: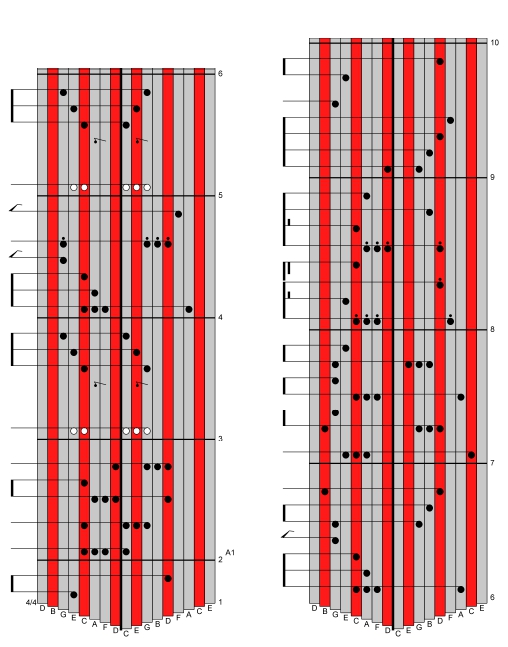 Click to download PDF tablature for 17-Note Kalimba in C.
I have always liked red paint on the tines of the (17 note) Treble, Bb treble, and now, the 17-Note Heart Kalimbas in C. And I have always preferred blue paint on the Alto kalimbas.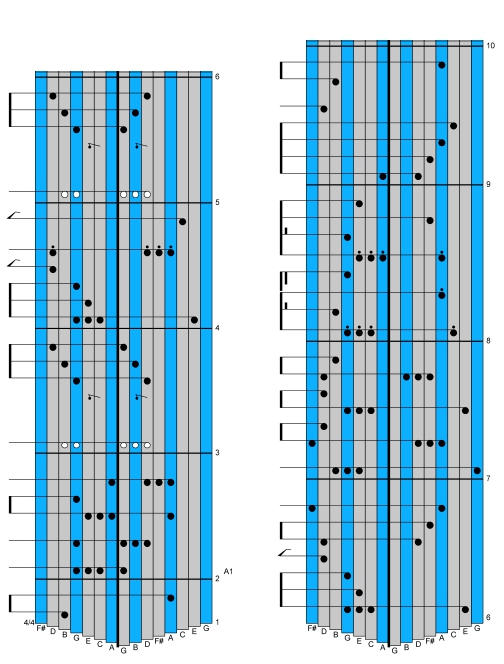 Click to download PDF tablature for the Alto Kalimba.
The song "Forgiveness" uses a lot of chords. A chord is two or more notes played at the same time, and you can see four different four-note chords in measure 2 of the tab above. At least in these four chords, one note is played by one thumb, and three notes are played by the other thumb. Those three notes will be played with the glissando technique, in which you touch the lowest of the three notes with your thumb nail, and then slide the nail over the three tines to be played. Having a bit of extra length to your thumb nail helps a lot with this move. (I prefer about 1/8 to 3/16 of an inch of thumb nail beyond the thumb flesh.)
Enjoy!