This is the main technique I use to keep on the happy side of life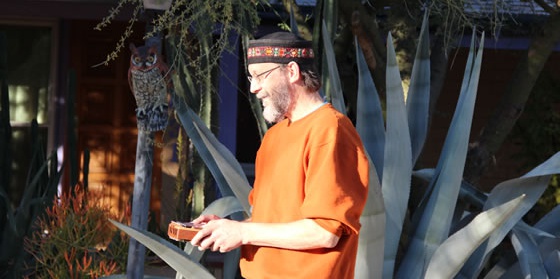 While I have not been diagnosed with clinical depression, I am prone to struggle with depression. Or rather, I would struggle with depression, except that I have a powerful tool at my disposal that proves effective against depression.
Some days I wake up and tell myself I don't need my early morning walk, and on those days, I tend to take a nosedive around 9 or 10 AM. By then, I realize that this is my wake-up call. If I don't go out, walk, and play kalimba – for myself and for the world – then I will soon be sliding down that black hole.
As I was walking today at 9:30 – quite late for me, but in time to save the day – I was struck by a chord of gratitude for, through, and because of, my kalimba music.
I haven't been doing my regular holiday gigs in recent years, and I think last year I did not perform the Christmas medley a single time. This year is different, and while I am not doing gigs every day of December as I have done in some years, I do have three high-profile performances where I will do the "Christmas Kalimba Medley".
The "Christmas Kalimba Medley" came to me in 2002 over the course of a thirty minute lunch break from my (former) astronomy day job. The medley has blessed many, and continues to be a blessing to me. In order to bring it back to life for this year's performances, nowadays I take my Bb Treble kalimba out with me each morning and play the medley from start to finish. My 1.7 mile walk permits two complete playings of the medley.
And that's all it takes. Twenty-five minutes of kalimba while walking puts me on an even keel pretty much for the rest of the day. I feel strongly that, at least for myself, this kalimba playing is very likely much more effective than pharmaceutical antidepressants.
What about for you? If you are just picking up the kalimba for the first time, it may or may not work at first – you might have to struggle with it for a while before you can get into the groove. Or you might find a delightful little "lala land" with your kalimba right from the start. On the other hand, if you have been playing kalimba for a while and have developed a facility with the instrument, playing kalimba on a daily walk will give you a healthy injection of love, wonder, and joy. All things that can really be wonderful for countering depression. Not to mention the fresh air and exercise.
As I walk and play the Christmas medley's songs each day, I can actually feel myself get better and stronger and more connected with those songs and with the instrument. What a wonderful feeling, to know that I am on a track (physical AND musical), and if I just keep walking on that track, I will automatically get better at playing these songs! This is the miracle of being human – that, with perseverance – slowly, steadily, we learn, improve, and get better. Even though the medley's arrangement is basically the same as it was 14 years ago, and even though I have played it thousands of times by now, I find that my playing today is deeper, more precise, and more meaningful than it was back then. And I can still feel myself getting better with each passing day. What a joy and a blessing!
Part of what makes me feel better is of course the walking. But part of it is about the music. Some of the songs in the medley are very beautiful on kalimba. As these songs slowly migrate from my conscious mind – where I still have to think or even worry about what notes come next – to my subconscious mind – where my playing becomes more automatic and I don't have to think – my mind is freed up to listen, to hear, and to feel. I am becoming less the performer and more the listener. As I really start to hear and feel these pieces deeply, the possibility of transformation is there – both the transformation of the music into something more illuminating than before, and the transformation of me and my heart and mind. And sometimes I am struck by the beauty of the music shimmering from the kalimba in my hands. That it happens to be coming through me can sometimes be enough to make me cry.
Walking through the world and being a conduit for this magical kalimba music coming through me often fills me with a deep sense of joy and gratitude, enough to last the entire day. Often, as I lay down to go to sleep at night, and recall the various things I did in my day, I will dwell on some particular aspect of my morning walk and kalimba playing.
Kalimba is not life. But "kalimba walking" can be a beneficial metaphor for life. "All I have to do is keep moving on this track, and I get better." Wow! Beautiful! "Doing this lets me feel gratitude for life, for this opportunity to play and make beauty, and – amazingly – I am well." Well worth remembering, and well worth believing in. Believing these things essentially makes them true.
I will write more about how I breathe meaning into each song in the "Christmas Kalimba Medley" in a subsequent post. This current post is all about feeling good!
And I do hope you feel good. If not, may I suggest you go to a nearby park and take a walk with your favorite kalimba? Best to you!