This is the fourth installment of the "Grab Bag."
Over the last 16 years, I have collected way too many kalimbas. Some were, at one point, to be my personal instruments. Some were experiments. Some were just used for a recording or video project. Some were leftover when we stopped carrying that model. And some had defects.
Over the next few years, I will be selling off the part of my collection that I don't personally play. Of course, I will be keeping all of the great many kalimbas that I do play (sorry). If you would like any of these kalimbas, contact me directly.
Shipping: add $10 domestic, $19 to Canada, or $25 for other international shipping. Coupon codes don't apply to these. Grab Bag Kalimbas that did not sell last month have been reduced by 25%.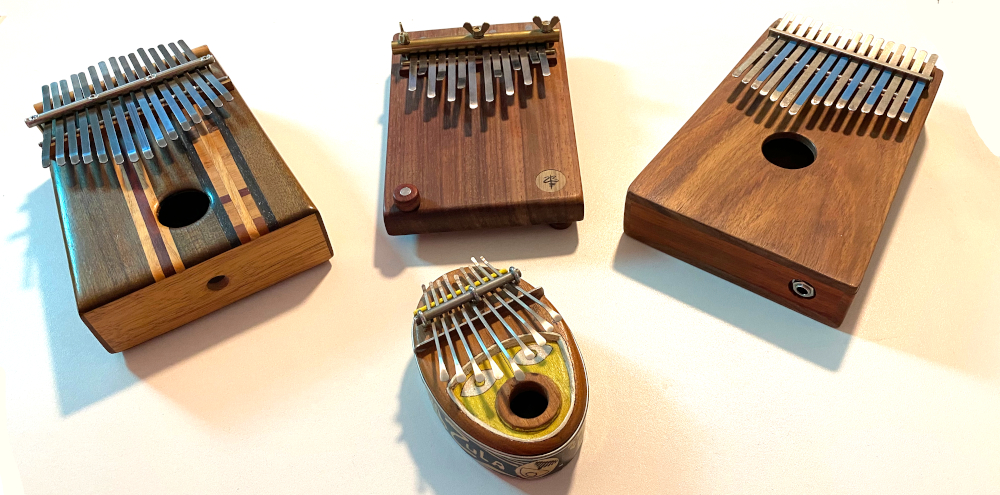 I am offering the above kalimbas for sale, but because they are "non-standard" I am not selling them in the shop, but rather here in the blog, and you will have to contact me to tell me you want one, and we'll arrange payment.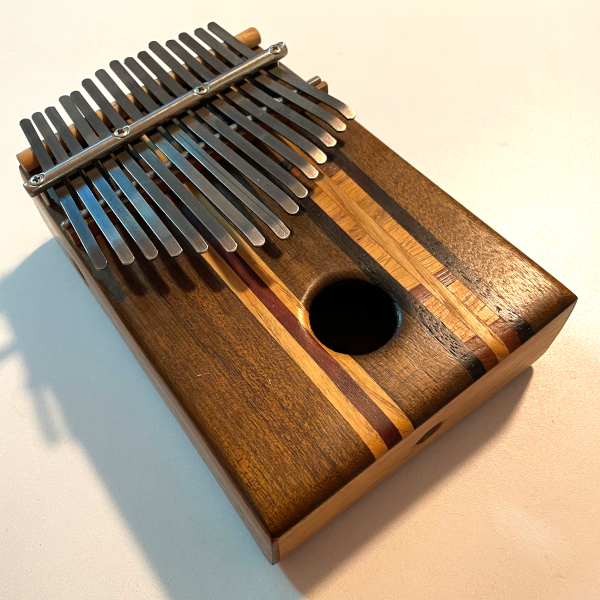 SOLD!  * $150 – Kalimba Tree 15-Note Kalimba This kalimba
Kalimba Tree Kalimba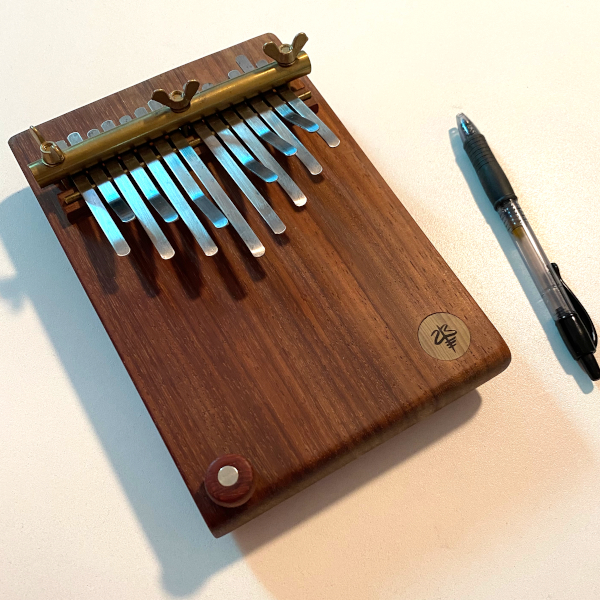 SOLD!  *  $200 – 2B Large 14-Note Kalimba Made by Thomas Bothe, very rare. This kalimba originally came with a "resonance frame" – four sides of wood about 2 inches deep, covered on one side with goat hide and open on the other side. (The resonance frame was destroyed/lost/sold/or…) The magnetic feet on instrument are attracted to tint magnets embedded in the wood – a clever trick! You separate the feet from the body, place the body on the resonance frame, and reattach the feet on the underside of the hide, and the kalimba is firmly attached. This will amplify the kalimba and will also work as a "wah wah" tool. The cardboard box that I will ship this kalimba in will work as well. You may want to find something more upscale? But tupperware also works great!
Kalimba Name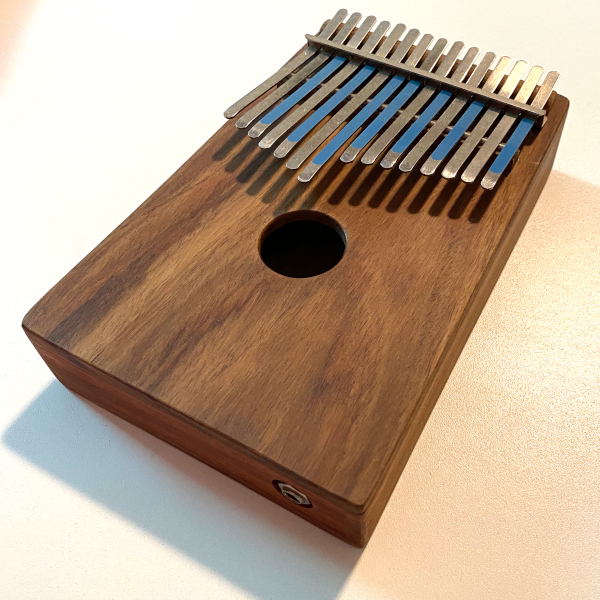 $140 – Hugh Tracey Alto Kalimba transformed into "Acoustic Trench" or Mbira-style kalimba. This kalimba is a 15-Note version of the setup that was once favored by Acoustic Trench on YouTube.
Kalimba Name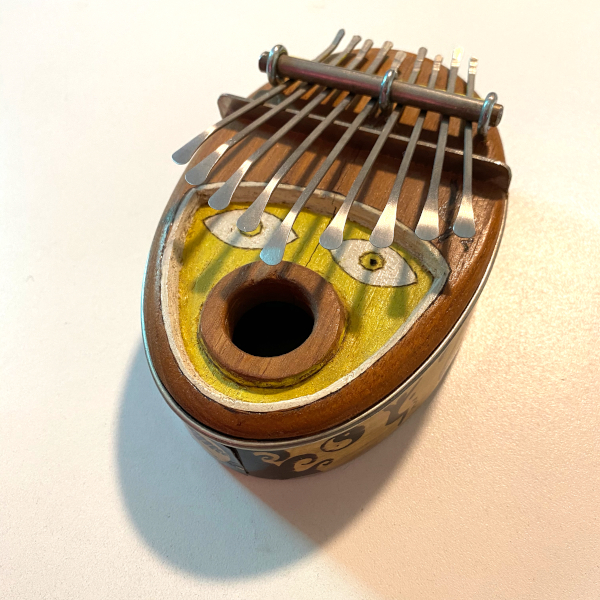 SOLD!   *   $65 – One more Zenzula Mini. This kalimba has a slight crack in the face wood – you can see it clearly in the photo. It does not affect the sound. Love the tuning.
Zenzula Mini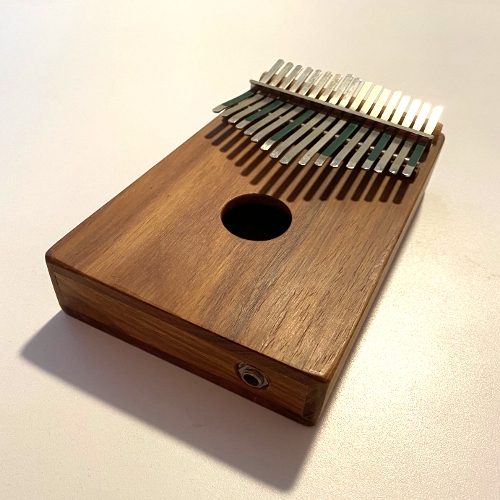 SOLD!  *  $45 (Reduced) – High G Hugh Tracey Treble This kalimba has a pickup that does not work properly. It is set up as a so-called "D Treble" (meaning the "two extra notes" on this 17-Note kalimba are in the two central tines, and not on the far left and right… meaning the top note, a painted tine, is the root note). But it is tuned up to G. You can see how far over the upper edge the tines fall – meaning the tines have been pushed in a lot to get to these high pitches.
High G Treble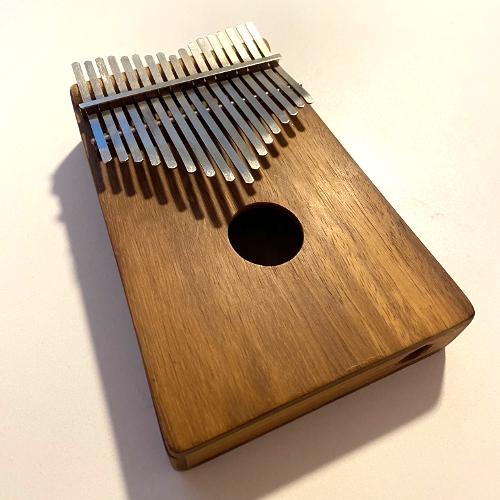 $45 (reduced) – Hugh Tracey Am Pentatonic Treble. You will first note the hole where the pickup jack once lived. That said, this is a unique instrument, tuned to the A minor pentatonic scale. Great fun to play. This scale takes the high notes even higher than they normally are, and you can hear the tonal quality getting thin on those highest notes.
A Minor Pentatonic Treble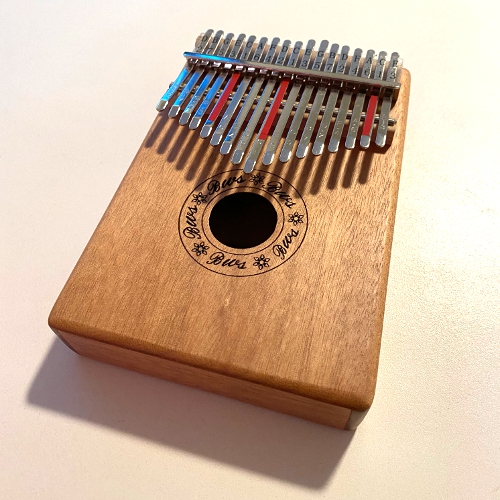 $19 (reduced) – Misc Brand 17-Note Kalimba in C I have this kalimba in my possession totally by accident. The tine painting does not match anything we do in tablature… but the tines are etched with both note names and numbers. There are also decals with the same info.
Misc Brand 17-Note Kalimba in C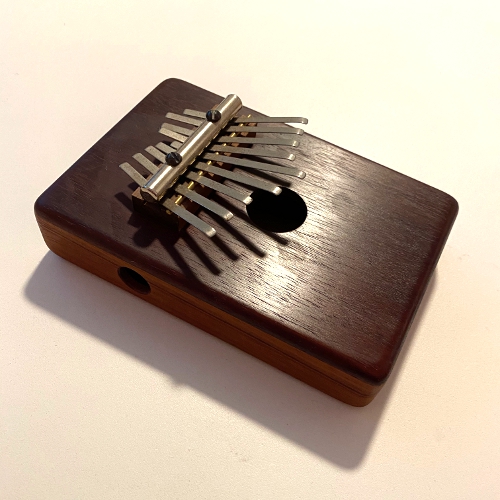 $45 (Reduced) Goshen Box Student Karimba. This paduak wood is quite old… it darkens with age. I have always loved the Goshen kalimbas, with their side-positioned sound holes – your fingers do the wah-wah sound there.
Goshen Box Student Karimba

Look for special treats in the Grab Bag in upcoming newsletters. Whatever I have offered that doesn't sell after a month will be reduced by 25% in price. Eventually everything will sell. And if you want one of these oddball kalimbas, remember to contact me directly.