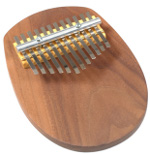 How to Play the 12-Note Kalimba
The Catania 12-Note Kalimba is a great instrument for teens and adults, is very flexible and capable, and is a great value.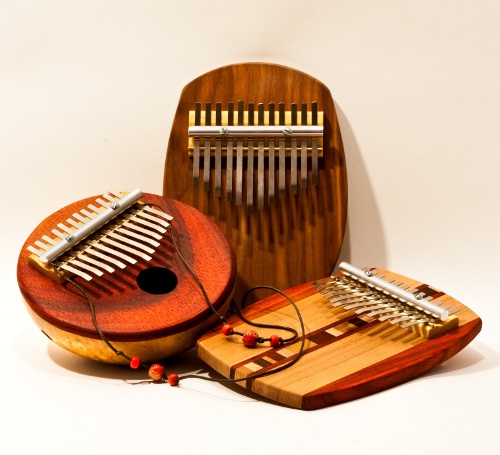 The Catania 12-Note Kalimba
The Catania 12-Note Kalimbas are powerful, flexible, and beautiful.
The 12-Note Kalimba in Images
All of the 12-Note Kalimbas that we sell are made by Catania Folk Instruments. There are other sellers of Catania kalimbas around, but we offer an expanded menu of instructional materials, we will put the kalimba into alternative tunings, and we offer the option of painting the tines (to help you keep your place, to assist in relating left and right sides, to assist in reading the tablature, and to relate this kalimba to other kalimbas).

The 12-Note Gourd Kalimba is about 7 inches across - just a bit bigger than the 8-Note Gourd Kalimba. The gourd-mounted kalimbas are a bit louder than the board-mounted kalimbas, and you can modify the tone on them by covering and uncovering the sound holes - ie, the wah wah effect. The necklace strap helps smaller hands hold this kalimba. The wood on the left is Paduak before it has been faded by the sun (the stripes are rare - usually the Paduak is a more uniform color), and the wood on the right is Australian Lacewood, which I haven't seen on a Catania Gourd Kalimba for several years.

Board Kalimba Woods on Catania Kalimbas

The 12-Note Board Kalimbas come in the same three woods as the 8-Note Kalimbas in this photo - cherry (left), paduak (center), and walnut (right). I cannot discern any tonal variations in these three kalimbas.
12-Note Models Available from Kalimba Magic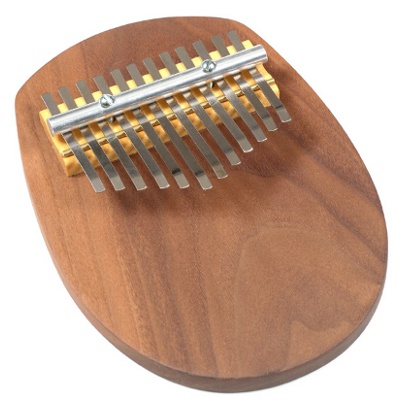 Plain Catania 12-Note Kalimba
The plain Catania 12-Note Kalimba has been discontinued.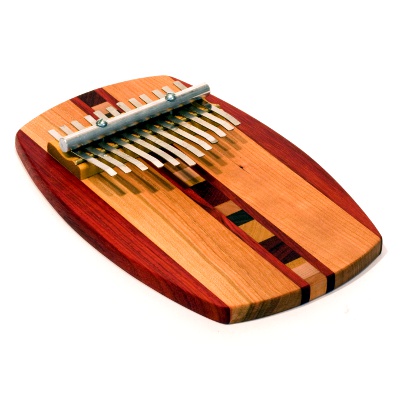 Decorative Catania 12-Note Kalimba
The decorative Catania 12-Note Kalimba has been discontinued.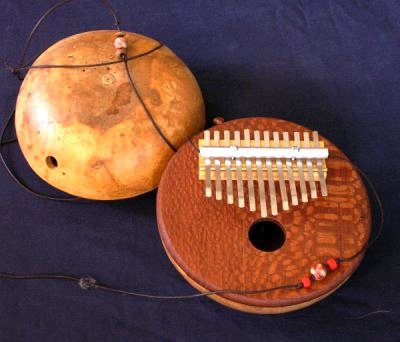 Catania 12-Note Gourd Kalimba
In my opinion, the Catania 12-Note Gourd Kalimba has been discontinued.
G Major

Listen to the 12-Note Kalimba in G Major Tuning.

The G Major tuning is an obvious one to make - just push the F tine in a bit to reach F#, the leading tone, which makes the next note, G, be the root note... which just happens to be the bass (lowest) note already. This is a left handed G tuning though - it can be made right handed, but that requires significant retuning.

G Hitzaskiar

The Hitzaskiar scale is very similar to the Middle Eastern scale, except this one has an F#.
If you have any questions, feel free to contact us via the email form, or speak directly to Mark Holdaway at 520-488-7641.