Save Big on Sansulas, the Most Magical-Sounding Kalimbas
13 May 2020
Save Big on Sansulas, the Most Magical-Sounding Kalimbas
All Sansulas are 25% Off in May 2020 with SANS25 Coupon Code
For the month of May 2020, you can save a wopping 25% on any kalimba, book, or download that contains the word "SANSULA" in it's product name. Sansula Renaissance? Save 25%! The "Playing the Sansula 2.0 Download"? Save 25%! The Beautiful E Sansula book? Save 25%. You get the idea by now.
With only 9 notes, the Sansula seems underpowered. But the real strength of the Sansula lies in its simplicity and its beauty. It is very easy to make absoluetly enchanting music with the Sansula, because of the high German engineering standards of the instrument and its materials, because of the simple and intuitive tuning, and because of the mind-blowing special effects.

When you play the Sansula, you don't really need to worry about which notes you are playing - you just twiddle your thumbs and out comes enchanting, mystical music. The flip side of this: if you try to make your Sansula play a song you know such as "Home on the Range" or "Happy Birthday," you will likely have difficulties. Get the Heart-17 for those songs... the Sansula plays its own music... organic, intuitive, ambient and spontaneous.
So - it is a great tool for someone who wants to make mind-blowingly beautiful music with the very cool wah-wah effect, but doesn't want to put in the effort to learn complex music.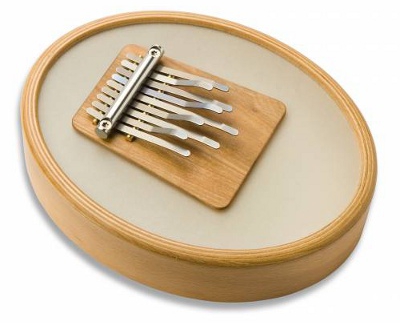 While the Sansula's tuning is a large part of its flavor, there are actually many alternative tunings available for the Sansula. Each tuning uses a different color pallet and creates different emotional shades of music. These tunings are documented at Kalimba Magic, and you can accomplish the retunings yourself. Or you could have us do the retuning for you.