25 September 2017
The Kalimba Magic App
The easiest way to see, hear, and appreciate the largest selection of kalimbas and kalimba tunings in the world, this free Android app is available in the Play Store
The Kalimba Magic Shop has a lot of kalimbas and a lot of books. It can be a bit overwhelming to navigate and pick a kalimba.
Now, the Kalimba Magic App offers a simple way to browse through most of our kalimbas on your Android phone or tablet. (Apologies to Apple users... in the coming year, an app for Apple devices as well as Android is planned, for learning to play kalimba.) The key aspect of this app is that it provides a very straightforward interface for seeing and hearing what each kalimba and each kalimba tuning sounds like.
The app contains descriptions, photographs, and high quality sound recordings of 57 different types of kalimba. Many of the kalimbas also have recordings of alternate tunings. Have fun listening to the meditative, relaxing, ancient, and... modern sounds of the kalimba! Use earphones (when appropriate) for the most authentic sound.
The Kalimba Magic App connects you to a multitude of resources that can help you succeed on your kalimba journey, including the KM website, dozens of books and hundreds of online tips and articles that will help you improve your kalimba playing and musical understanding in so many ways.
Here are some of the new app's comprehensive elements:
This free app doesn't require any additional subscriptions or registrations.
The app provides access to high-quality stereo downloads, 60-90 seconds long, of each kalimba/tuning.
In-app purchase of kalimbas, kalimba books, and kalimba downloads.
Each kalimba listing exhibits the books and downloads that will work with that instrument.
Featuring kalimbas by Hugh Tracey (South Africa), Hokema (Germany), Goshen (West Virginia), Roots Production (France), and Marek Bolf (Slovakia).
Featuring dozens of alternate kalimba tunings, each with different mood/emotional and cultural possibilities.
The History page has a thoughtful, illustrated history of the kalimba.
The Resources page has links to 22 important web resources for kalimba players.
The "My Kalimbas" section lets you save favorite kalimbas and return to them.
The Book view lets you browse through all the kalimba books and downloads.
Most songs and all performances copyright 2017 Mark Holdaway.
Screen shots of the Kalimba Magic app follow: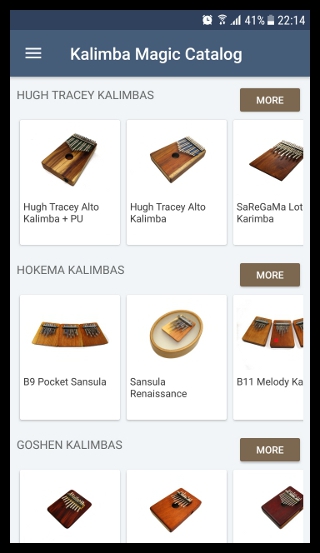 Default screen in the Kalimba Magic app displays kalimbas that are available for each brand; each category starts with best sellers listed first.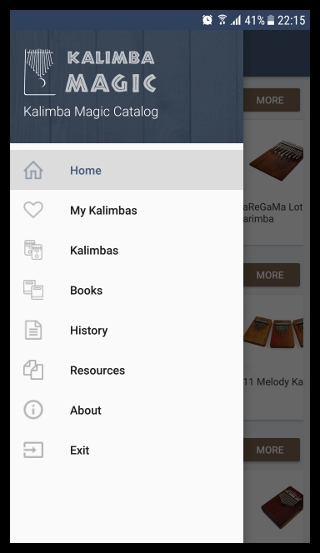 The contents page in the Kalimba Magic app.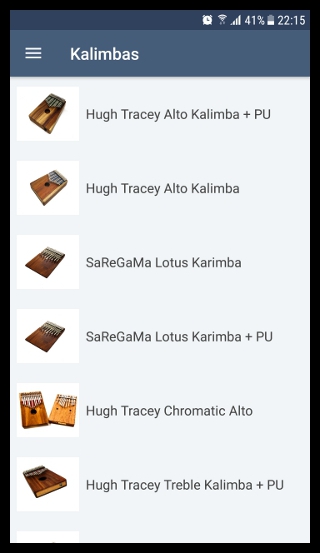 The Kalimbas page in the Kalimba Magic app.
Each kalimba has its own page, including one or more sound recordings, a description, a list of books that work with the kalimba, and a link to the Kalimba Magic shop.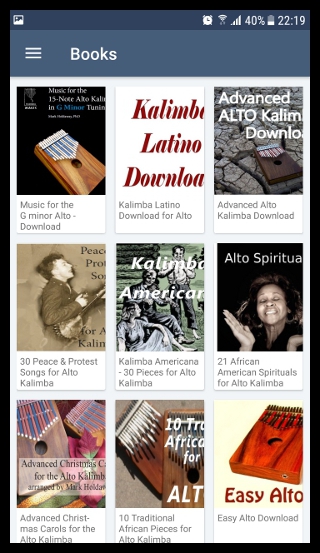 Kalimba books and downloads are also listed on their own page (in addition to being listed on pages of relevant instruments).