Instructional Resources for the Celtic D Karimba
26 July 2019
Instructional Resources for the Celtic D Karimba
get your first lesson on the Celtic D as well as three songs - hear them and get free tablature for all four
The Celtic D Karimba is designed to play Celtic music in the key of D major, or B minor, or E dorian mode. Not all Celtic music is in D, but it is a common key for Celtic music.
With two rows of interspersed tines, the spacing between adjacent tines on the same row is significantly increased. This makes fast melody playing easier (because the tines are spread out more), but it makes glissandos and chords a bit more difficult (also because the tines are spread out more).
We gather all of the instructional resources for the Celtic D Karimba in this one spot.
Many of this kalimba's tines are similarly pitched to a penny whistle's notes. If you are playing together with a whistle player, try to play more on the lower tines to give the whistle player sonic space. If you are playing with a guitar player who is laying down the chords, then soar high into the upper notes as well.
In the tablature for the Celtic D Karimba, the upper-row tines are represented by shaded columns in the tablature. You can see this when you look at the pattern made by the tine tips in the tablature footer.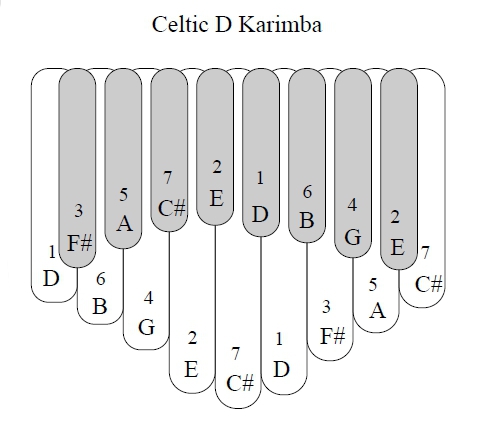 Only 15 notes are needed to cover two octaves of the D major scale... but as there are 17 tines on the Celtic D karimba, this permits us an extra low tine, C#, and an extra high tine, E. These notes make a kind of cushion below and above the two-octave range. Melodies will sometimes have little turnarounds that go down to the low C# or up to the high E.
To better understand the layout of this tuning, start on the low "1" note, the white D in the middle, your second longest tine. Following to higher notes in the scale, you alternate right, left, right left... and when you hit the far right tine C#, and the far left D, you keep going up the scale, but jump to the adjacent upper-row note, E, then F#, and so on through all of the upper-row notes. Come down again if you like.
The low note, C#, is a half step above middle C on the piano.
To get the tablature and the entire lesson - all lessons in this post are free - click on "Learn the Song" inside each of the following sections.
The PLAY widget below illustrates the Celtic D Karimba's note layout and range.